The IGETC and Haas language requirement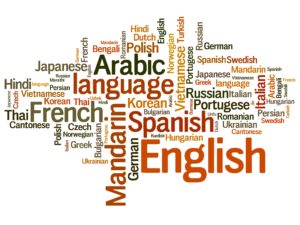 UPDATE JUNE 1, 2016:  Haas no longer requires foreign language.
thought I'd give a heads up to students who are often confused with the various foreign language requirements when transferring to a UC. If your major does not specifically have a language requirement and your general education breadth path does not ask for language, then you don't need it.
However, as most of you know, if you are fulfilling IGETC, which is the general education path recommended for a great many majors, you need language — and if you are applying to Haas you need even more language. In fact, the lack of language completion for Haas is probably the number one reason students get disqualified from the business school.
The list below outlines the options to successfully fulfill both IGETC language and Haas language. I am only talking here about situations that involve actual coursework. There are other ways to fulfill language through testing, AP exams and like. You can find a link to those language completion options further down.
IGETC and foreign language
IGETC language fulfillment is usually referred via the acroynym LOTE (Language Other than English). To complete LOTE you need the equivalent of two years of high school language. You can reach that level in these two ways:
By taking two years of high school language in the same language, with the last term grade being a C- or better. Even if you have a lower grade from a previous term, as long as the last term grade at the high school is C- or above, you have successfully completed two years of high school language in the eyes of the UC. You get it signed off by sending your high school transcript to the CCC. (Note: The UCs do not recognize plus and minuses on high school transcripts; thus, a C- rolls over to a C.)
If you do not have two years of coursework in the same language from high school, you need to complete the equivalent at a college. Now, here is where it gets interesting:

One year of college level language is equivalent to two years of high school language, and some accelerated college language courses fulfill one year of college level (that's two year high school level) in just one semester.
You need to check with your CCC to see which type of language course they offer. Your advisor can tell you, and another easy way is to check the IGETC form for your CCC. The form will tell you what course level completes IGETC. It will either be an intro language class you can get into with no prerequisite — hence, just one semester, or it will have a prerequisite earlier course, meaning you need two semester courses. You may also be able to jump ahead depending on how much coursework was completed in high school, or any testing or AP scores, which may place you higher.
Haas and foreign language NOTE UPDATE ABOVE
So, where IGETC wants the equivalent of one year of college level language (two years high school), Haas wants the equivalent of two years of college level language in the same language. This means, depending on your CCC, you will need two accelerated semester courses (comparable to a UC course), or four regular semester courses.
This is the big mistake that a lot of applicants make when applying to Haas. You need that extra semester course or two. If you have taken four years of high school language in the same language I am assuming you could use that to fulfill the two college years — but you need to check for verification, as I am only surmising and this may not be correct.
Semester vs quarter
For practical purposes I have been talking about semester college units. If you are on the quarter system you need to discuss options with your current educational institution, because one quarter will definitely not equal one semester.
Pass/No Pass
Both IGETC and Haas allow language courses to be taken for P/NP as long as you don't reach the maximum P/NP units of 14 semester (21 quarter) units. My advice is if you plan to do that, do it with the lower-level courses, so the final language term has a nice big fat A, or at least a B. (Be aware that if language is required for your major it must be taken for a letter grade.)
Validation
The reason you can have a bad grade in an earlier language course, or a P/NP, and still get credit is based on the notion of validation. If interested, you can read about validation here.
For further elucidation, work with your advisor.