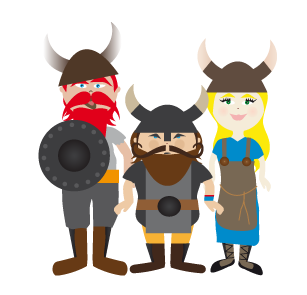 UCLA Adds Nordic Studies and Asian Languages Majors
UCLA has added two new majors to its roster:  Nordic Studies and Asian Languages and Linguistics.
---
Nordic Studies
I had a look at the major and course offerings and it's most intriguing. From the Nordic Studies web page:
The B.A. in Nordic Studies trains undergraduate students in a comprehensive, interdisciplinary understanding of the Nordic region (Denmark, Norway, Sweden, Finland and Iceland, along with Greenland, and the Faroe Islands). The goal of the major is to provide the student majoring in Nordic Studies with a robust knowledge of the cultures and histories of the Nordic countries from a global and transdisciplinary perspective. Importantly, the major allows interested students an opportunity to explore the Nordic region from the perspective of non-Humanities disciplines…while requiring a strong grounding in the history and cultures of the region.
Areas of study include film and literature, history and folklore, linguistic and cultural differences, global impact and climate change. There are no pre-requisites and no language requirements. (NOTE:  College of Letters and Science does have a language requirement.) The major also offers a study abroad program to Sweden and Denmark.
The 5 tracks in the Scandinavian courses are:
Early Nordic Literatures and Cultures
Theory, Genres, and Authors
Literary Periods
Cinema and Television
Cultural Studies
---
Asian Languages and Linguistics
The Asian Languages and Linguistics major was established as an enhanced approach to a student's knowledge of Asian languages and cultures, specifically an awareness of linguistic diversities in Asia as well as diversities in multi-racial and multi-ethnic communities in Los Angeles.  A student may study more than one language, although that is not mandatory. The major's study abroad program includes China, Hong Kong, India, Japan, Korea, Singapore, Thailand and Vietnam.
Pre-reqs:
intermediate language course or test placement
1 linguistics course (that may or may not be offered at your CCC)
1 civilization/religion course (that may or may not be offered at your CCC)
There are 2 fields of linguistics studied:
discourse-functional and socio-linguistics
language pedagogy