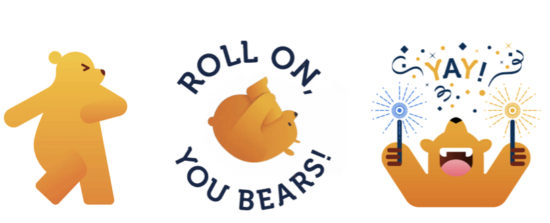 A Complilation of UC Rankings
Global Rankings 2019
The University of California was named among the world's best universities in two separate rankings this week, with both assessments focusing on the high-quality of research at UC and its outsized influence in scholarly and academic publications around the globe.

Scientific journal Nature named all 10 campuses and UC's three affiliated national laboratories in its index of the top 500 institutions and universities that dominated research last year in the natural sciences.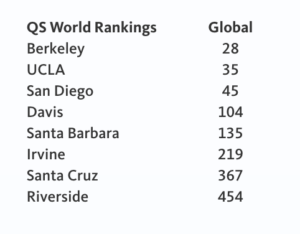 QS World Rankings also issued its list of the world's top 1,000 undergraduate universities, with eight UC campuses among the global elite.QS compiled its list through a weighted assessment that included academic reputation, reputation among employers, faculty-student ratio, citations per faculty, and the ratio of international faculty and international students on campuses.
source: https://www.universityofcalifornia.edu/news/uc-campuses-among-world-s-best-two-new-global-rankings
---
Top College Rankings
Five UCs are among the top 10 public universities for undergraduate education in the country, according to the 2019 U.S. News & World Report Best Colleges rankings and all nine UC undergrad campuses rank among the top 75.
UCLA and UC Berkeley were named the top two PUBLIC universities in the country, with UC Santa Barbara ranked fifth. UC Irvine was No. 7, UC Davis No. 10 and UC San Diego took the 12th spot this year. UC Santa Cruz (No. 26), UC Riverside (No. 35) and UC Merced (No. 67) rounded out the public university rankings.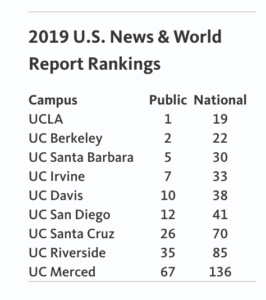 The UC campuses also performed strongly in the overall national rankings, which include both private and public institutions. Six UCs ranked among the top 50 nationally: UCLA (No. 19), UC Berkeley (No. 22), UC Santa Barbara (No. 30), UC Irvine (No. 33), UC Davis (No. 38) and UC San Diego (No. 41).
source: https://www.universityofcalifornia.edu/news/uc-campuses-rise-top-new-us-news-and-world-report-rankings
---
College campuses doing the most for our country (2018)

University of California campuses has strong rankings when it comes to serving taxpayers and the country as a whole, according to the Washington Monthly.
The magazine looked at how well the nation's four-year schools did in terms of social mobility, research and public service. All nine UC undergraduate campuses placed in the top 100 nationally. Six UC campuses — UC San Diego, UCLA, UC Davis, UC Berkeley, UC Irvine and UC Riverside – were in the top 30, and UC Merced was 39th.
"We give high marks to colleges that enroll low-income students and help them graduate without too much debt. We factor in pure research spending and the number of undergraduates who go on to earn Ph.D.s. And we give extra weight to colleges that send their graduates out into the world to serve the community at large.
Source: https://www.universityofcalifornia.edu/news/college-campuses-doing-most-country
---
Best Value Campuses (2019)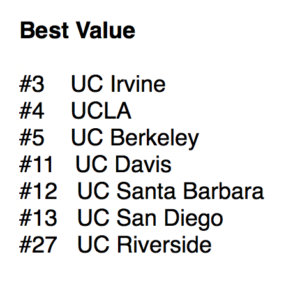 Forbes ranked six UC campuses among the nation's top 25 colleges that offer best value. UC Berkeley and UCLA rated No. 1 and No. 2, respectively, while UC Irvine was eighth and UC Davis ninth on the list. UC San Diego was listed 11th and UC Santa Barbara 22nd.
"More than half of the top Best Value Colleges are clustered in the West and five of the 10 are public schools (four from the enviable U.C. system)," Forbes said. "And all are highly active research hives with outstanding programs in science, technology, engineering and mathematics (STEM)."
Source:  https://www.universityofcalifornia.edu/news/uc-campuses-provide-most-value-investment-according-forbes
---
Additional rankings 2018-2019
Merced
This is a huge win as its very hard to get ranked when you're a new university. I have always felt Merced is destined to rise to the top.  It's doing everything right. It's not a campus to be dismissed.
UC Merced ranked one of the Top Young Universities in U.S.
Irvine
UCI ranked 7th among U.S. public universities in U.S. News & World Report
Riverside
UC Riverside registers greatest gain in U.S. News & Word Report
NOTE: featured image is from Cal Bear Stickers