2018 EDITION! 




Your own private advisor



How to Transfer to a UC from a California Community College

The #1 best-selling book on transferring to a UC
now in its 3rd edition.
~ step-by-step easy-to-follow tips
~ extensive Q&A section
~ comprehensive links and data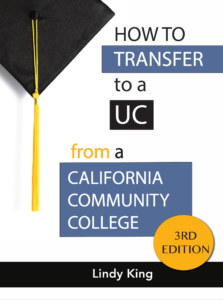 Win the Transfer Game.....
Lindy, I just bought your book. I have been working at community colleges for almost ten years as a counselor, but I have been so impressed with all the research -- and detailed but easy…read more→
This book gave me exactly the answers I needed, as well as answers to questions I hadn't even thought of.  She explained the transfer process in ways that my college advisors still can't do after…read more→
Ms. King does a phenomenal job summing up the TRANSFER process. There are a lot of books on getting into college as a freshman but none discuss the TRANSFER process, and neither are as complete…read more→
This is my first review on amazon, and this review is because of Lindy. She is perfect and best consultant I have ever seen in my life. Why? She knows what she is writing about. It's…read more→
How to Transfer to a UC from a California Community College is a must have for all CCC students wishing to transfer to any of the UC's. Highly recommended!!
We got a copy of this book after a frustrating college admissions meeting. I am impressed (and relieved), not only with how well it is laid out, but also by the sheer scope of material covered.…read more→
At first I was hesitant to buy this excellent book because at 570 pages, I thought I won't live long enough to read it. But I'm glad I did. It's laid out in short chapters…read more→
what the UCs look for in an applicant
how to correct bad grades
how to determine general education and major requirements
how to calculate average GPA of admitted transfers in your major
how to write a strong personal statement
best strategies for out of state and UC-UC transfers
how to handle coursework from multiple colleges
best practices for Haas School of Business and international students