Full IGETC vs Partial IGETC
I received the following question regarding the University of California's IGETC, which is one of two forms of general education completion available for UC transfers:
I have only one IGETC class to complete and was going to take it summer before enrollment.  Will this be OK?

Answer:

It depends. You will be submitting a partial IGETC at the end of spring, and if the requirement for admission is Full IGETC by spring (UC Berkeley College of Letters and Science comes to mind), you will need to work it out with the UC. Be aware that Berkeley's L&S is fairly strict about completion by spring if you choose the IGETC path.
Whatever your situation — and many majors will accept partial IGETC — be sure to note in the additional comments of the Transfer Academic Update (TAU) in January that you plan to take the missing course in summer.  Keep in mind, if you are accepted, the summer course will likely be part of an extended provisional contract and the UC may expect a letter grade of B as part of that revised contract, depending on how they feel about it.
Side note:  When you apply, the UCs are looking solely at courses completed by the spring before fall enrollment. Any summer classes taken after spring (right before fall enrollment) are not part of the application review, unless the provisional contract is revised to account for a summer course, as may be the case with an extended IGETC. This means, under normal circumstances, a summer course usually needs a C grade or better. The higher grade may possibly kick in if the provisional is revised to include the summer course. Under any and all circumstances, be sure to let the UC know if you plan summer courses before enrollment.
---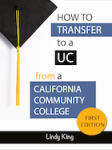 The above is excerpt from "How to Transfer to a UC from a California Community College: The Unofficial Guide," by Lindy King, available on Amazon and iTunes.