Computer Science GPA Range by UC Fall 2017
3.
Computer Science GPA Range by UC Fall 2017
I've finally had some down time to update data for transfers hoping to be competitive at each of the UCs in the Computer Science major.
Needless to say, Berkeley and UCLA can be a tough nut to crack, but the other UCs are way more forgiving.
The keys to a successful transfer into CS are these components:
High GPA
Completion of all major requirements (they want to see strong math!)
Completion, if possible, of a few recommended courses, if any are listed
–> Extra-curricular activities are not as important
You can find major requirements by UC and CA community college at assist.org.
---
GPA Range
This table rubric is the mid-50% who got accepted and is the sweet spot you want to hit — the higher the better. There are 25% who got in with a lower GPA, but keep in mind those could be students with special circumstances or other criteria that elevates them substantially. There are also 25% who got in above that mid-range (or 25% more who got in with a 4.0 if that is the top figure).
Admit rate
The admit rate is the percent of applicant to the major who were admitted. The higher the admit rate the easier it is to secure a spot.
To compare with 2015 data, click here.
Computer Science GPA and Admit Stats, 2017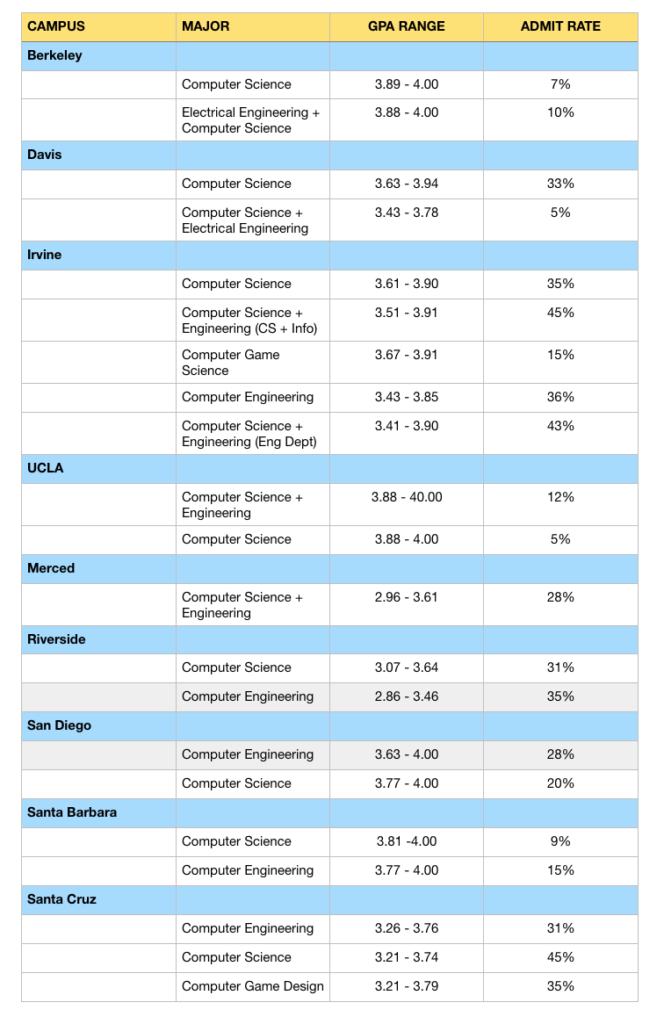 source: https://www.universityofcalifornia.edu/infocenter/transfers-major