A Few IGETC Rules Explained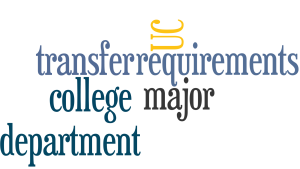 IGETC stands for Intersegmental General Education Transfer Curriculum. Yep.
It's a form of G.E. course completion available to UC transfers. If you are on this path, here are some of the more prominent IGETC rules that bear repeating:
When is the latest I can complete IGETC?
You have up until the spring term before fall enrollment to complete IGETC in terms of admission.  This means when you apply in November, you will have courses in-progress (IP), and planned courses (PL) for the following spring term.  Both these terms can be used to fulfill IGETC. If IGETC is not completed by end of spring term, you can submit a Partial IGETC if you re missing just 1-2 courses. However, depending on your major's selectivity (or department rules or provisional contract), you may risk losing admission or getting your acceptance rescinded.
Can I use the same course to fulfill IGETC and a major requirement?
Yes, courses can be used for both IGETC and major requirements, although courses can only be used once in IGETC even if they are listed in more than one area, with the sole exception Language other than English. The same course can fulfill LOTE and a Humanities course.
I submitted a Partial IGETC and got admitted to UCSB. What happens if I don't finish the Partial?
You risk not having any of your CCC courses certified, which means the UC may not recognize your courses as fulfilling the GE requirements needed to graduate and you will have to retake them at the UC.
If I start IGETC do I really have to finish it?
Yes. Once you start IGETC you are required to complete it, preferably before transfer.  If it is not completed by the time you transfer to a UC you will have to fulfill the remaining lower division general education courses (or even repeat them). Depending on circumstances it may put you at risk. Many majors will accept a Partial IGETC, but to be considered a competitive student many departments will want to see full IGETC certification.
Can I return to the CCC to complete my IGETC?
You can only complete IGETC at your CCC the summer before your first UC term. After you start the UC, you cannot go back to any CCC to complete it. You must complete the remaining courses at the UC.
Do I have to complete my IGETC at the same CCC?
No, you can do it at as many CCCs as you wish. You can also include non-CCC approved courses. But you will need to send all of those transcripts to the CCC issuing the certification so they can sign off on the completion.
Is IGETC a non-negotiable requirement to gain admittance to a UC?
No, it is not an admission requirement, but you need to look at the rules within your school or department. For instance, Berkeley's Letters and Science only accepts full IGETC if you choose that G.E. path.  Especially with selective majors, Full IGETC always makes you more competitive than partial.
---
The above questions were mostly taken from the ebook, How to Transfer to a UC From a California Community College: The Unofficial Guide. The book contains an extensive Q&A as well as a step-by-step breakdown of the transfer admission process,